The modern-day workplace is changing quickly. New technologies and evolving employee expectations mean employers are being presented with every changing challenges. Developing talent management nowadays adds unmatched value to any organisation (Terry, 2016).
Talent management is a commitment HR departments together with business leaders, must enter into with a centralised goal of hiring and managing the most talented professionals in the market. This non-negotiable implementation has surfaced due to the competitive demand to retain high-performing teams and identify potential talent within organisations. The basis of talent management is attracting, engaging, optimising, and developing talent. Companies and managers must also be prepared to attract, retain, and develop talent internally. (Terry, 2016).
The current climate means businesses must be very attractive in the eyes of an employer given quality talent is so difficult to find. HR departments, recruiters and managers should work together to transform the business world into a progressive landscape, in addition to generating a work environment where their input matters. Employees should have clearly defined goals and expectations lead by a pathway for their own progression and an understanding of their contribution and its importance (Terry, 2016).
Analysing future scenarios and considering what your company and leadership team will look like in two, five or even fifteen years, is a necessary management exercise. Being caught by surprise with vacant positions, especially leadership positions, can greatly impact the organisational climate, and if persistent, the external image of your organisation. One of the best approaches to drastically boosting your company's talent management is producing a succession plan.
Have you considered who is going to step up if the company lose a c-suite employee or key employee?
A key employee departure can drastically compromise organisational success, workplace culture and effectiveness of communication and processes from the top down. While many businesses fail to prioritise succession planning, it is one of key ways to ensure sustainability in the short and long term.
But…..
What is succession planning?
The process of identifying and developing people who can assume strategic positions within the organisation. It allows the best use of ultimately the most important asset companies have: the talents and skills of employees. Creating your plan starts with a clear definition of the important requirements to be successful and an outline of the skills needed to occupy key positions.
The plan should directly support the company's interests, with the purpose of maintaining business relevance and success in the segment it operates. The existence of a well-structured succession plan also promotes significant risk reduction for a company's shareholders and investors.
What is the objective of succession planning and how do you create one?
The first step involves business leaders mapping their current talent, creating a list of potential successors to assume leadership positions and define clear direction to possible command transitions. This way, the company creates pathways to build a strong employee foundation, increase retention rates and enhance success.
Identifying and developing high level employees is one of the main challenges for organisations. Based on the mapping of current talent and recognition of any skill gaps, HR and line managers can formulate a strategy to identify or recruit talent that has potential. In addition, implementing processes and training that prepares current employees to succeed in the position. (John, 2013, page 2-4)
The image below shows the foundations of a succession plan which can act as a great guide for managers and HR teams to develop their own.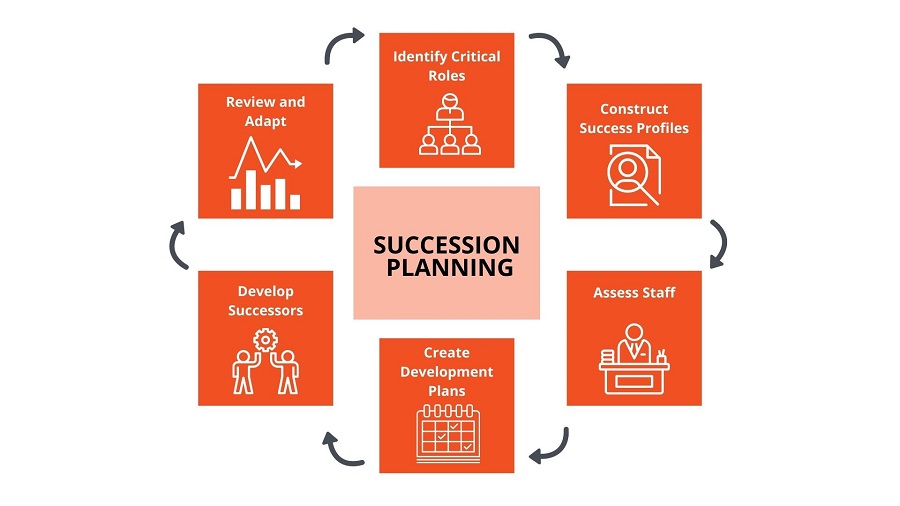 Whilst taking these steps, it's important to cross reference with the core business strategy to ensure there is no misdirection. Implement each of these steps and engage employees for their involvement on the decision making, this way they remain aligned with your current strategy and understand any transitions they may be experiencing (John, 2013, page 2-4). Lastly, create policies that support the succession plan. This way, all employees will have access to their expectations as well as an outline of the actions being taken, providing even further transparency.
Do's and don'ts of the succession planning
Building a succession plan is never easy but putting it into practice can be even more challenging. The integration of human resource management within the organisation's strategy is something that must be prioritised throughout this process. Studying the information needed to prepare the plan allows for a thorough understanding of each of the functions that are key to the company, as well as the essential skills for its execution. Gaining awareness is a guaranteed way to promote a sense of purpose and confidence for the whole organisation. The table below shows what are most common mistakes, compared to best practices that could affect the results of your succession planning.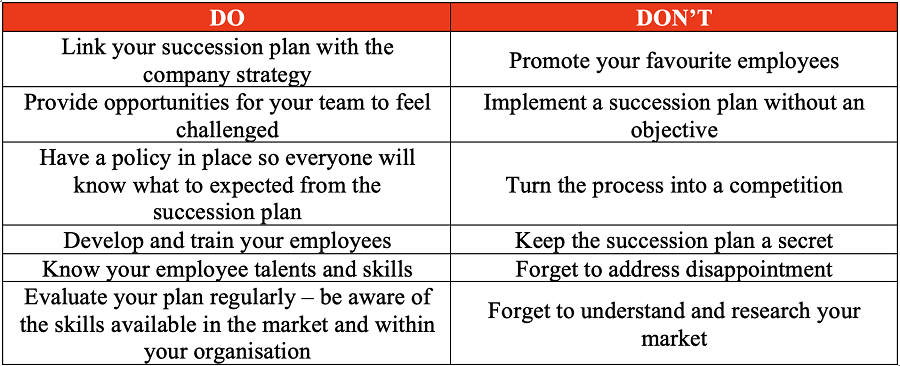 Conclusion
A succession plan that promotes the efficient management of human capital and makes considered business decisions with now as well as the future in mind, tends to not only see greater return, but also become a more enjoyable place to work.
A succession plan does not intend to form leaders equally or to all be the same. It creates a plan to utilise each person's unique leadership style, work completion process as well as leverage their strengths for the benefit of the business and their own personal development. So, it's time to start thinking about the potential of your employees; consider offering opportunities to challenge and develop your team. Facilitate discussions about their potential progression as a key employee within a business and last of all, understand your market. Knowing what skills are available based on the current recruitment climate and your organisation, will make a huge difference to your succession planning outcome.
We live in an age where knowledge and talent represent the greatest value an organisation can have, with that the "engine of growth" being your people, this will become the main competitive differential.
References
Jenster, N.; Steiler, D. 2011. Turninh up the Volume in Inter-personal leadership: motivating and building cohesive global virtual teams during times of economic crisis. Retrieved from: https://laureate-au.blackboard.com/bbcswebdav/institution/AUT1/_MASTERS_/MB_MMBA/MGMT_6009/readings/MGMT6009-mod3-Jenster.pdf
John, M.; 2013. Powerful Succession Planning. E-book, New York: Amacom. Retrieved from: http://web.b.ebscohost.com.ezproxy.laureate.net.au/ehost/detail?sid=39fbe47d-fe9b-4995-aa0f-ede5a9d7af8c@pdc-v-sessmgr01&vid=0&format=EB&rid=1#AN=538975&db=nlebk
Terry, B.;2016. ATD Talent Management Handbook. Retrieved from: http://web.a.ebscohost.com.ezproxy.laureate.net.au/ehost/detail?sid=7ce14d23-8a49-4bdd-ac64-56a5ed27614b@sessionmgr4009&vid=0&format=EK&rid=1#AN=1107624&db=nlebk